Beta
In-Game Bonuses by Rank
Conditions for Bonuses Distribution
If you meet the following two conditions
You can get in-game bonuses based on the VIP rank.
1
The game must be already registered in My Games.
Register your game in My Games by the last day of the count period.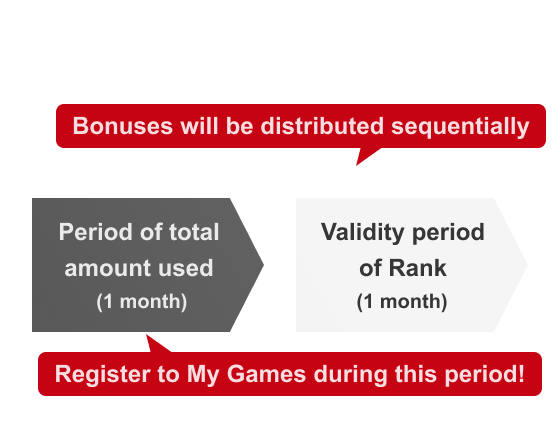 2
Must be an eligible rank for each game's bonuses distribution
After registering with My Games, you will be eligible to receive bonuses when your VIP rank is eligible for the distribution of bonuses. Click the button below to check your next assumed VIP rank.
In-Game Bonuses
The contents of bonuses and the timing of when you can receive them vary from game to game.
Check what you can get in the game you are playing!
*Bonuses can be received only once for the same game in different languages and devices.
FAQ
There is no data to be displayed.
Failed to acquire data.