[Pre] Additional in-game rewards based on Johren VIP ranks!
Hello Johren fans.
This is the Johren team.

Thank you for your patience.
We are pleased to announce that the games eligible for the Johren VIP rank-based bonuses have been decided!


---
---
Games and bonuses for each VIP rank


*The above bonuses are only some examples. Information about other ranks will be released around 1/25.

*Please note that the distribution of bonuses may change depending on the game.

*In-game bonus is available only once for the same game in different languages and devices.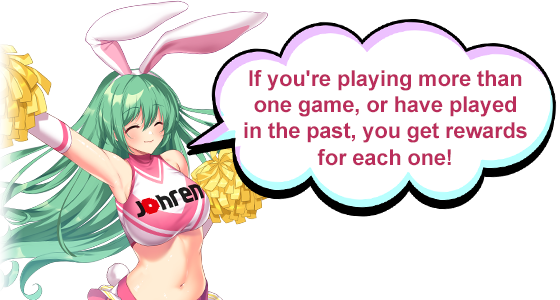 ---
---
Bonuses Distribution Conditions and VIP Rank Update Schedule
The terms and conditions of the bonuses distribution are as follows

Eligible games must be registered in My Games as of 1/19/2023.

To be White or higher in VIP rank as of 1/25/2023.



The VIP rank, which will be updated on 1/25, will be determined based on the number of Credits spent during the following period, so those who are aiming for a higher rank should pay attention to the period of the tally.



| Counting Period (UTC) | VIP Rank Decision Day (UTC) |
| --- | --- |
| 2022-12-20 0:00 ~ 2023-1-19 23:59 | 2023-1-25 |





The first rank-based bonuses will be distributed sequentially after
1/25/2023. Check your respective in-game notices for distribution timing!


For more information about Johren VIP, including the conditions for
achieving each rank, please see the What is Johren VIP? page.


---
---

The next announcement will be made on the Johren website when the
distribution starts!

The Johren Team